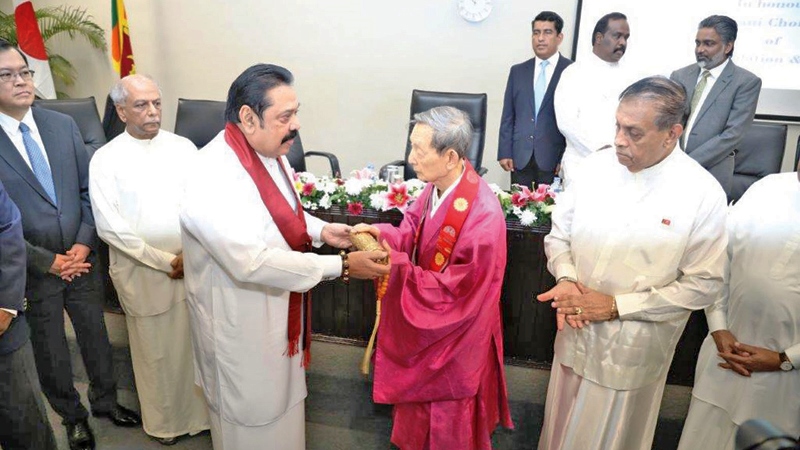 Prime Minister Mahinda Rajapaksa said the contribution by the Honganji Foundation led by the Most Ven. Ohtani Chohjun towards strengthening the relations between Sri Lanka and Japan over the decades has been monumental.
The Prime Minister was attending the ceremony of awarding the Great
Sasana Ratna Award and the presenting of the Sannaspathra to the Most Ven. Ohtani Chohjun Thera at the Parliamentary Complex yesterday (18) morning, a press release from the Parliament Communication Deparment said.
The Honganji Foundation Cultural Promotion Foundation of Japan has a long history. It has contributed immensely to improve the socio-economic and cultural ties of the Buddhist community worldwide.
Whilst emphasizing that Japan and Sri Lanka have stood by each other during difficult times, President Mahinda Rajapaksa thanked the Honganji Foundation for opening a Japanese gallery at the New International Buddhist Museum in Sri Lanka.
The Prime Minister also added that the most Ven. Ohtani Chohjun is the cousin brother of the previous Emperor of Japan and is an elite academic of the University of Tokyo and the University of Sorbonne in
France and is a well-known lecturer at Nagoya State University.
The most Ven. Ohtani Chohjun was recognised for his contributions in developing interconnections between the Mahayana Buddhism and the Theravada Buddhism.
Speaker Karu Jayasuriya, Deputy Speaker Ananda Kumarasiri, Leader of the House Dinesh Gunawardena, Chief Government Whip Johnston Fernando, State Minister Vasudeva Nanayakkara, Lasantha Alagiyawanna, Nimal Lanza, Dullas Alahapperuma and Thilanga Sumathipala along with MPs parliament staff and many invitees participated.